'If woke means I can't get behind Trump, which is what I think it means … call me woke as you f—ing want.
Get the latest from Mark Daniell straight to your inbox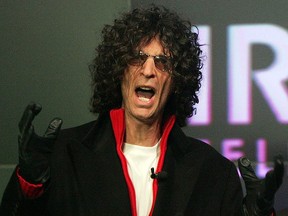 Article content
Howard Stern loves it when critics call him "woke."
Article content
The outspoken SiriusXM radio personality recalled this week how a listener criticized him recently for softening as he's gotten older.
Article content
"I hear that a lot that I'm not good anymore because I'm woke," said Stern [per Mediaite]. The self-described "King of All Media" has been a vocal critic of former U.S. President Donald Trump, anti-vaxxers and, more recently, Lauren Boebert, who he criticized for her lewd behaviour in a Denver theatre earlier this month.
But Stern says he's unmoved by such insults. "I'll tell you how I feel about it. To me the opposite of woke is being asleep," he said.
"I kind of take that as a compliment, that I'm woke," Stern continued. "If woke means I can't get behind Trump, which is what I think it means, or that I support people who want to be transgender or I'm for the vaccine, dude call me woke as you f—ing want."
Article content
He continued: "I'm not for stupidity, you know. I ran out Friday morning. I was over at CVS. Thank you, CVS. I went over there 9 a.m. and got myself that new vaccine for COVID. F—ing science. This f—ing country is so great… I am woke, motherf—er, and I love it. I want to be awake. I want to read legitimate news sources."
Stern also tackled claims by Trump and his supporters that Joe Biden won the 2020 U.S. election thanks to fraudulent votes.
"Here's how woke I am: I believe the election was not rigged."
In response, Trump shared a clip from Fox News to his Truth Social platform in which host Jimmy Failla criticized Stern.
"Donald Trump's media omnipotence broke Howard Stern. This is very important," Failla said in the video [per OK! Magazine]. "Trump used to be on Stern's show every week. They were friends. So this idea that Trump was the worst guy who ever walked the face of the earth, why were you hanging out with him?"
Article content
Failla said it "killed" Stern to see Trump parlay his fame all the way to the White House.
"It killed Howard because he was the king of all media. He had that super ego of like, 'I'm the most important person to ever open their mouth in front of a microphone,'" Failla said. "And suddenly Trump turned Howard from the king of all media into the Prince Harry of all media. Nobody cared. Its 100% ego."
But Stern has been a vocal critic of Trump throughout is presidency and as he prepares to make another run in 2024.
In 2021, Stern mulled a possible run against Trump next year.
"I know I'll beat his ass," Stern said.
The following year, Stern said he was considering throwing his hat in the ring to become president "to make the country fair again."
Article content
"I am going to do the very simple thing that'll set the country straight: one vote, one person," Stern explained, claiming Trump actually lost the 2016 election against Hillary Clinton who won the popular vote — but not the Electoral College.
"A guy who lost the vote won the election," Stern scoffed. "How long can we keep electing people who lost the election?"
He went on to slam Trump's supporters as a bunch of "nincompoops."
"My God in heaven, I feel like I'm in a nation of nincompoops. I'm hoping there is still some more brilliant, bright, vibrant people who love this country," he said.
"I don't hate Donald," he added [per the New York Post]. "I hate you for voting for him, for not having intelligence. For not being able to see what's going on with the coronavirus, for not being able to see what the Justice Department is doing. I hate you, I don't want you here."
He went on to say that Trump wouldn't let his supporters anywhere near one of his properties. "The people who are voting for Trump for the most part… he wouldn't even let them in a f—ing hotel … Go to Mar-a-Lago, see if there's any people who look like you."
Howard Stern says fear of COVID causing fights with wife Beth Ostrosky: 'I'm going back into lockdown!'

Howard Stern dumps on Lauren Boebert over 'Beetlejuice' grope-night drama: 'We need her in a strip club'
Denial of responsibility!
YoursTelecast is an automatic aggregator of the all world's media. In each content, the hyperlink to the primary source is specified. All trademarks belong to their rightful owners, all materials to their authors. If you are the owner of the content and do not want us to publish your materials, please contact us by email –
[email protected]
. The content will be deleted within 24 hours.