Disrupt work-life balance can increase the risk of heart problems and cardiovascular diseases. Here are 5 major factors that contributes to the risk, How? Let's understand it below!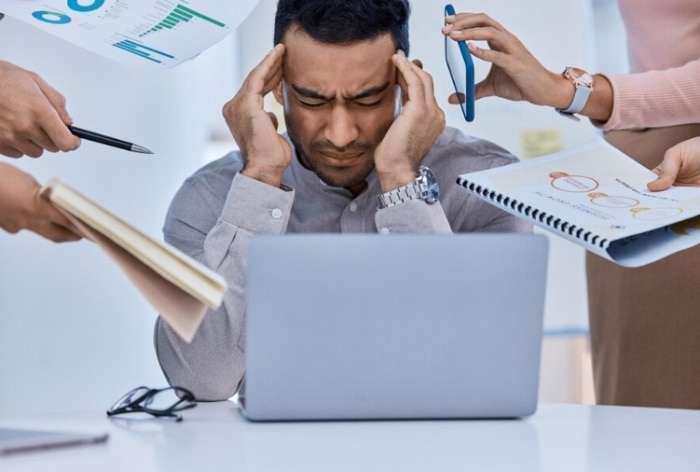 Various reports and studies have confirmed that people who work long hours are at extreme risk of cardiovascular disease. According to estimates by WHO and the International Labour Organization, published in Environment International, working long hours led to as many as 7,45,000 deaths from stroke and ischemic heart disease in 2016, a 29 per cent increase since 2000. Since the pandemic, the work-from-home culture began and people began putting in much more hours than they would if they were at office. It has become convenient for most out there, despite neglecting how it can affect one's health. Since the pandemic lifted, people started going to work in offices is another reason for longer work hours. Sometimes, it's beyond the regular shift that results in continuously sitting on chairs and failing to take the much-needed break. Working long hours can indeed increase the risk of cardiac problems and have a negative impact on heart heart. Here are few factors that contribute to the risk:
Working Around The Clock? Here's How It Takes a Toll on Your Heart Health
Increased Stress: Long work hours often lead to increased stress levels. Chronic stress can trigger the release of stress hormones like cortisol, which can raise blood pressure and contribute to the development of heart problems.
Limited Physical Activity: Extended work hours can leave little time for exercise and physical activity. A sedentary lifestyle is a known risk factor for heart disease. Regular exercise or any form of workout is essential for maintaining a healthy heart and preventing cardiac problems.
Sleep Deprivation: Long work hours can lead to inadequate sleep. Night shifts or rotating shifts can disrupt the body's entire clock and sleep patterns. Chronic sleep deprivation can contribute to conditions like obesity, high blood pressure, and diabetes which increase the risk of heart disease.
Social Isolation: Spending long hours on work may result in social isolation and a lack of time for meaningful social connections. Loneliness and lack of social groups have been associated with an increased risk of heart disease.
Lack of Time For Healthcare: People who work for long hours have no time for themselves. They priorities work over health, leading to neglect of regular check-ups and preventive health measures.
To minimize the risks associated with long work hours, it is essential to prioritize work-life balance, maintain a healthy diet, engage in physical activity, reduce stress and get enough sleep. Also, regular check-ups will help identify heart problems or any potential health concern for further.
Denial of responsibility!
YoursTelecast is an automatic aggregator of the all world's media. In each content, the hyperlink to the primary source is specified. All trademarks belong to their rightful owners, all materials to their authors. If you are the owner of the content and do not want us to publish your materials, please contact us by email –
[email protected]
. The content will be deleted within 24 hours.